Over the past 10 years, the area lining the Canal saint Martin, just behind Place de la République in the 10th arondissement has become one of the hippest neighbourhoods in Paris. Gone are the dirty workshops and dusty warehouses that once lined the banks of the canal, replaced by trendy boutiques, art galleries, organic supermarkets and of course myriad bars and restaurants.

But it's not always easy to find a good restaurant near the canal. Not because of a lack of good restaurants – there are plenty of them – but it always seems that half of Paris is trying to find a table at the same time. So in many of the most popular restaurants, long waits are de rigueur.
However a few minutes walk away in the 11th arondissement, we discovered a hidden gem. Just a short distance, but a world away from the faux chic bobo hipsters of Canal saint martin. Auberge Pyrenées Cevennes on Rue de la Folie Méricourt screams authenticity.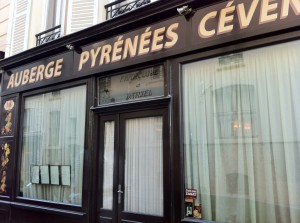 From the minute I opened the door, I knew I was going to like the place. Like Chez Nenesse, it doesn't feel like this restaurant should be in Paris, rather in some sleepy far away provincial town. For a start it's spacious, not like the cramped establishments Parisians are used to, where getting to your table normally involves copious dollops of 'Excusez-moi' et 'Pardon', and when your neighbours leave, you might just be lucky enough to get their bag thrust in your face, or at least into your plate.  No, none of this here. The two rooms have ample space and you don't feel like the party on the next table is sharing your conversation or your legroom.
The decoration is delightfully kitsch, copper saucepans hanging from the walls and dark old wood everywhere from the ceiling beams to the chairs and the furniture.
From the name of this restaurant, you might be expecting traditional dishes from the south-west of france (Les Cévennes are a range of mountains in the south of the Massif Central, just to the north of Montpellier).  However, the menu also offers some options from Lyon, and as Lyon is sometimes thought of as the gastronomic capital of France, if not the world, I know I was in for a treat.
I started off with the "Terrine de l'Auberge", a huge chunk of home made terrine which could have been a meal in itself. I remembered, too late, that the original plan for the evening involved a light alcohol free meal. "Yes I will have another glass of that delicious Côtes du Rhône!". Oooups.
In for a penny, in for a pound, as the saying (luckily for me) goes. Next up, le plat du jour – Boeuf Carottes. Another huge serving. Wonderfully tender meat and sweet nearly caramelised carrots  that had obviously been simmering away for hours in one of those huge copper casseroles. And as if I look liked I needed fattening up, served with a generous bowl of tagliatelli.
Nearby, we could hear the cries of amazement as someone discovered their cassoulet, served directly from the copper pan it was cooked in.
Needless to say, we didn't make it as far as the desert, which was a shame as the Tarte Tatin looked delicious. Other desert options included Île Flottante, crème brulée, poire belle hélène and a tarte aux pommes.  Maybe next time ? *sigh*
In summary an excellent address to discover the cuisine of Lyon and the south-west of France, a warm welcome and friendly service, charmingly simple atmosphere. Just make sure you're *really* hungry.
Prices
Evening main course: 22 €
Evening menu: 30,25 €
Evening à la carte: 45 €
Address
106 rue de la Folie Méricourt
75011 Paris
Telephone: 01 43 57 33 78
Metro: République, Goncourt
[google-map-v3 width="580" height="350″ zoom="15" maptype="roadmap" mapalign="center" directionhint="false" language="default" poweredby="false" maptypecontrol="true" pancontrol="true" zoomcontrol="true" scalecontrol="true" streetviewcontrol="true" scrollwheelcontrol="false" draggable="true" tiltfourtyfive="false" addmarkermashupbubble="false" addmarkermashupbubble="false" addmarkerlist="106, rue de la Folie-Méricourt, 75011, Paris{}1-default.png{}Auberge Pyrenées Cévennes" bubbleautopan="true" showbike="false" showtraffic="false" showpanoramio="false"]
Opening hours
Monday – Friday: 12 noon to 2:30pm
Monday – Saturday: 7pm to 10:30pm
Other links
Auberge Pyrenées Cévennes review (Time Out)
Lyonnais restaurants in Paris (eat-out.net)